Three International Copper Association (ICA) members launched the Charge on Innovation Challenge as a global competition to develop innovative solutions to cut emissions from surface mine operations. BHP, Rio Tinto and Vale founded the challenge in partnership with Australian company Austmine, a not-for-profit industry association for the Mining, Technology and Services (METS) sector. Austmine is facilitating the challenge, which is open to vendors across all industries globally. The goal of the challenge is to find original solutions to deliver electricity to large-battery electric haul trucks for use in mining operations.
To decarbonize the mining industry, the challenge has been launched to make battery electric trucks (BET) a feasible reality, with BETs expected to begin mine site trials within the next few years. The challenge aims to develop complimentary charging infrastructure in tandem so that complete solutions can be developed and trialed on site before broad implementation across the mining sector.
"We expect the Challenge will stimulate innovative ideas, some of which could be immediately applied to existing diesel-electric equipment and help fast-track implementation of longer-term solutions. We understand that these challenges will not be solved overnight, but together we can find the best concepts that can be applied across the industry." – Edgar Basto, President of BHP Minerals Australia
The Challenge of Electrifying Mining Trucks
While electrification and renewable energy provision continues to be developed and implemented in the mining sector, mining trucks present unique barriers to electrification. The size of the mining trucks needed to fulfill their operational purpose makes them difficult to electrify in a practical way.  Stationary charging systems require considerable time to charge larger vehicles, which results in a significant loss of productivity. Stationary charging stations also require trucks to be charged outside of their operational haul cycle, making the truck unusable during charging. This requires miners to purchase more trucks, further raising operating costs.
Trolley assist systems, which are used to propel diesel-electric trucks up ramps have also been examined as a potential solution, but their use is limited in a mine setting. While these systems could be adapted to charge an electric battery (dynamic charging), they are prohibitive due to their high cost, difficulty for installation or adaptation, need for extended road widths and large turning radiuses. They also require high standards of road maintenance, have difficulty moving around obstacles and face issues related to vertical overhead lines, including additional attention from the truck drivers.
To make BETs a feasible reality, the mining industry needs fast charging systems capable of delivery around 400kWh to dynamically charge and propel a trucks full haul cycle, which includes loading, traveling, dumping, returning and queuing.
The Charge on Innovation Challenge
The Purpose
To pursue decarbonization of the mining industry and reach carbon-neutral operations in alignment with the Paris Agreement, solutions must be found to make zero-emission transportation a reality for mining fleets. The Charge On Innovation Challenge was issued globally to accelerate the commercialization of innovative and original solutions. In doing so, the challenge aims to: highlight the emerging market for charging solutions in mining, demonstrate the desire for cooperative solutions with suppliers, encourage competition in the supply chain, integrate innovations from other sectors into the mining sector and encourage cooperation among the mining sector to contribute to industry decarbonization. Potential solutions resulting from the challenge could also be adapted in other electric or hybrid electric vehicles, further encouraging early adaptation of dynamic charging solutions.
"This is a global call-out to innovators to change the way haul truck systems operate in the mining sector. Innovation is the key to decarbonization, and we expect the Challenge will deliver exciting new concepts that could drive huge long-term benefits for our industry and the environment." – Mark Davies, Executive Safety, Technical and Projects, Rio Tinto Group
About the Challenge | Charge on Innovation Challenge
Challenge Activities
An "Expression of Interest" (EOI) period opened in Mai 2021 and lasted through Juillet 2021. Proposals were evaluated for one month, followed by a series of workshops for the evaluation of potential solutions from a short list determined by the patrons. Solutions are expected to be developed and tested within the next few years.
In addition to the founding patrons, the Challenge has attracted numerous supporters from the mining sector and beyond. Other ICA members, including Antofagasta Minerals, Boliden, Codelco, Freeport-McMoRan and Teck Resources have become patrons. In total, 21 mining companies focused on lowering carbon emissions joined as patrons. Companies from more than 20 countries expressed interest in the challenge, highlighting the projects' global appeal.
"We are very happy with the results of the first phase of the project. It´s still early to talk about the success of the challenge, but it is clear that the industry has reached a new level: we worked together on a common sustainability agenda, and we will work collectively to reach our goals, gaining safety and speed on our way to low carbon mining." – Mauricio Duarte, Charge On Innovation Challenge Project Lead, Vale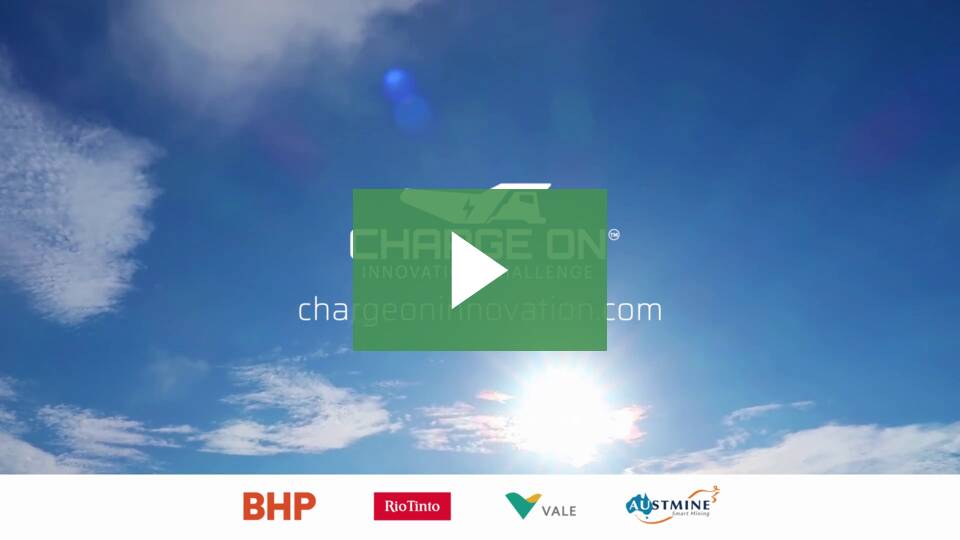 Charge On Innovation Challenge | Electrifying Mining
À propos de BHP
BHP is one of the world's leading resources companies. For more than 130 years, it has been supplying the resources that underpin economic growth and improve standards of living globally. We understand the impacts that we have on climate change and are committed to creating a brighter future for the decades to come.
À propos de Rio Tinto
As pioneers in mining and metals, Rio Tinto produces materials essential to human progress. Iron ore for steel. Aluminum for cars and smartphones. Copper for electric cars. Borates that help crops grow, titanium for paint – and diamonds that celebrate the best things in life.
About Vale
Vale is a global mining company that seeks to serve society by generating prosperity and protecting our planet. We help to protect over 1 million hectares of forest and mitigate climate change. Aligning our goals with the Paris Agreement, we will reduce our emissions by 33% until 2030 and reach carbon neutrality by 2050 (scope 1 and 2).
À propos de l'International Copper Association
The International Copper Association (ICA) brings together the global copper industry to develop and defend markets for copper and make a positive contribution to the UN's Sustainable Development Goals. Headquartered in Washington, D.C., ICA has offices in three primary regions: Asia, Europe and North America. ICA and its Copper Alliance® partners are active in more than 60 countries worldwide.